$139.95
DataTale 2-Bay FireWire 800, eSATA, USB SMART RAID Enclosure
This item is discontinued.
Overview
The DataTale SMART 2-Bay RAID System is a customized RAID system with an intelligible GUI (RAID MASTER) for personalized RAID settings, which allows managing RAID tasks with ease. There is a set of colorful LED indicators for immediate system status, and quad interface ports for accommodating a variety of connection configurations.

User Friendly GUI
The user-friendly RAID MASTER application allows simple RAID configuration. Any two 3.5-inch SATA hard drives can be combined as a single volume using SPAN/RAID1/RAID0 modes or be kept separate as 2 volumes under JBOD mode (default).
Silent Heat Dissipation
The upright yet vertical placement of hard drives within the aluminum case maximizes internal airflow and creates excellent heat dissipation. Furthermore, the low-dB fan makes the DataTale SMART a quiet companion for sensitive environments.
4TB+ Support Ready & Fast Speeds
Finally, the DataTale SMART can support more than 4TB of hard drive storage capacity and tops most consumers' expectations with its high-speed performance in data transfer.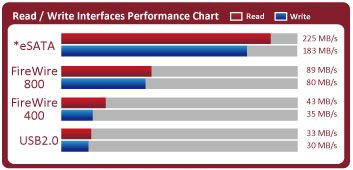 ---
Flexible connection via eSATA, USB 2.0, 1394a Firewire 400 and 1394b FireWire 800
Provides JBOD (Non RAID), RAID 0 (Striping), RAID 1 (Mirroring), and Span
Configures RAID modes using RAID Master (GUI)
Monitors System status via LED indicators or GUI
Dissipates heat efficiently with aluminum housing & quiet fan
HDD spins down when host computer enters sleep mode and spins up when host system wakes up.
Supports hot-plug and HDD hot-swap
Features a trayless function with the SmartGuider™
Package includes: DataTale RS-M2QJ, eSATA cable, USB cable, FW800 cable, (2) Smartguider and mounting screws, protective pouch; power supply, user guide
2 Year Warranty
Ports:
eSATA: Up to 3Gbit/sec; USB 2.0: Up to 480 Mbps (60 MB/Sec); FireWire 800/IEEE 1394b: Up to 800 Mbps (100 MB/Sec)
HDD Interface:
Two 3.5" SATA (Type I/II/III) drives
RAID Modes:
JBOD (None RAID), RAID 0 (Striping), RAID 1 (Mirroring), Span (Large)
Dimensions:
5.0 x 5.4 x 8.4 inches (L x W x H)
Power:
Input: AC 100~240V; Output: DC +12V/4.16A
Fan:
80 x 80 x 10 mm; Speed: 1900 RPM +-10%; Noise: 17.13 dB(A) max
Requirements:
Compatible with Windows XP/Vista/7 & above; MAC OS 10.2 & above; Linux 2.4.22 & above.