$239.95
DataTale Smart RAID 4-Bay FireWire 800, eSATA, USB Enclosure
In stock
Overview
The
Onnto DataTale RC-M4QJ 4-Bay SMART RAID
provides JBOD, RAID 0 (Striping), RAID 1 (Mirroring), Span, Clone, RAID 5, and RAID 1+0. The unit features multiple RAID tasks, making complicated operations possible (including HotSpare and Automatic Rebuild for RAID 1+HotSpare, Clone+HotSpare, and RAID5+HotSpare). With the push of a few buttons, the LCM display will allow RAID configuration and system status monitor . It displays general information on any inserted HDDs, the RAID system itself, and RAID functions. The efficient heat dissipation created the outstanding design — the upright stand of the HDDs maximizes airflow and exhausts heat via vents, combined with the rugged aluminum case and low-dB fans.
The RAID MASTER (GUI) permits professionals and enterprises to centralize and effectively oversee complicated RAID applications. With the RAID MASTER, you can configure multiple RAID tasks, set the alerting feature to report any system problems, and customize storage activities for your RAID System.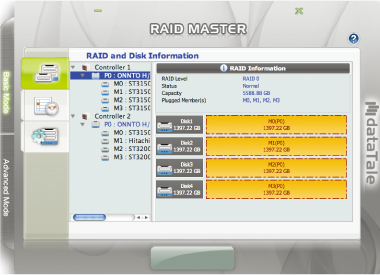 ---
Flexible connection via eSATA, USB 2.0, 1394a Firewire 400 and 1394b FireWire 800
Provides JBOD, RAID 0 (Striping), RAID 1 (Mirroring), Span, Clone, RAID 5, RAID 1+0, and optional HotSpare for effective storage management
Supports automatic rebuild in RAID 1+HotSpare, Clone+HotSpare, and RAID 5+HotSpare
Supports both on-line & off-line rebuild
Configures RAID modes easily using LCM or RAID MASTER; no IT expertise required
Dissipates heat efficiently with aluminum housing & quiet fan
HDD spins down when host computer enters sleep mode and spins up when host system wakes up.
Supports hot-plug and HDD hot-swap
The SmartGuider™ makes HDD installation, removal and insertion easy by enabling trayless HDD positioning and effortless HDD hot-swapping when necessary.
The following accessories are available:

Additional SmartGuider handles, which attach to the HDDs for easy removal and exchange
3.5" HDD Soft Sleeve to safely protect the HDD after removal from the enclosure

Note: Windows 2000, XP & MAC OS 10.2 (& older) do not support partitions larger than 2TB+ or higher. In order to support 2TB+ partitions, you must use Windows Vista, Windows 7, Windows XP 64-bit, Windows 2003, or Mac OS 10.3 or higher.
Package includes: DataTale RC-M4QJ, eSATA cable, USB cable, FW800 cable, FW400 cable, (4) Smartguider and mounting screws, protective pouch; power supply, user guide
2 Year Warranty
Ports:
eSATA: Up to 3Gbit/sec; USB 2.0: Up to 480 Mbps (60 MB/Sec); FireWire 800/IEEE 1394b: Up to 800 Mbps (100 MB/Sec)
HDD Interface:
Four 3.5" SATA (Type I/II/III) drives. Recommended drives:
Seagate Barracuda
RAID Modes:
RAID 0 (Striping), RAID 1 (Mirroring), Span, Clone, RAID 5, RAID 1+0, optional HotSpare, JBOD (Just a bunch of disks)
Dimensions:
8.3 x 5.4 x 8.4 inches (L x W x H)
Power:
Input: 90-264VAC; Output: 12VDC/5A ; Peak current: 12A
Requirements:
Compatible with Windows XP/Vista/7 & above; MAC OS 10.2 & above; Linux 2.4.22 & above.